PICOTE MILLER RANGE
Picote's range of Milling units are perfect for descaling pipes, root cutting and lateral reinstatement after CIPP lining.
Maxi Miller Power+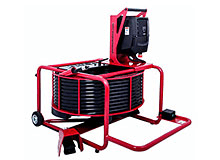 The Maxi Miller Power Plus allows the use of Picote's unique tools in larger diameter DN150-225/6" - 9" sewers, cleaning up to DN300 / 12".
The Maxi Miller Power Plus System is designed for faster lateral reinstatements, even higher speed drain cleaning and more efficient collapsed liner removal. The Power Plus provides more than double the power compared to regular Maxi Miller (3.5kw vs. 1.5kw).
20m/64ft of 18mm / ¾" shaft which can be extended by 10m / 32ft
Suitable for heavy duty drain cleaning with Picote Original and Cyclone chains
Fast reinstatements with the Smart Cutter™and Twister
Tough descaling with the Smart Spider
Challenging liner removal with the special Smart Crusher and Smart Sweeper tools
For DN150 - DN225 / 6" - 9"pipes
Can be used in DN100 / 4" straight pipes
3-phase 16 amp 400v / 3.5kw / 1800rpm
Electric motor & safety clutch.
Control box can be detached and operated from access point
Midi Miller: Practical, Versatile, High Quality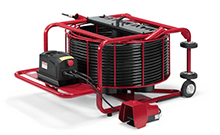 12m of 12mm shaft with regular outer casing.
Suitable for drain cleaning & powering the Smart Cutter™, Twister, Collapsed Liner Twister & the Pipe Cutter.
For DN70 - DN200 pipes. Adapter for 8mm shaft for DN50 drains.
Weighs 38kg, 1800 rpm, 1200w output.
Durable electric motor & variable speed control.
Push/pull system & stair glides for easy transportation. Easy to manoeuvre inside buildings.
Maxi Miller: Powerful, Durable, Far-reaching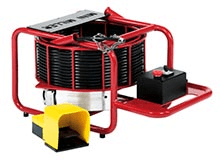 30m of 12mm shaft with thick outer casing.
Suitable for drain cleaning & powering the Smart Cutter™, Twister, Collapsed Liner Twister & the Pipe Cutter.
For DN100 - DN250 pipes. Weighs 95kg, 1400rpm, 1500w output.
Electric motor & safety clutch.
The Spider, 6 Panel hub and DN200 twister can only be used in conjcution with the Maxi Miller
Mini Miller: Efficient, Portable, Skillful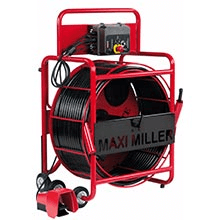 Micro 12m and Mini 17m of 8mm shaft.
Suitable for drain cleaning DN50 - DN100 pipes.
Use with DN50 & DN70 Smart Cutters & Twisters.
Micro weighs 18kg & Mini weighs 23kg, 600 - 2900rpm, 1200w output.
Lightweight aluminium frame.
Two wheels facilitate transportation.
Perfect to work inside buildings.
---
PICOTE TOOLS
TWISTER EXPRESS
Now available for lined or unlined pipes, the Twister Express is up to six times faster than the original Twister. With replaceable plastic guards to prevent damage to the plastic pipe, the Express model focuses on safety as well as speed. Currently available for DN100 pipes.
The Smart Spider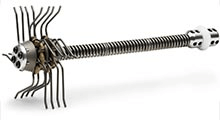 The Smart Spider cleans all types of pipes fast and highly efficiently - even safe to use in PVC pipes. A unique tool designed specifically for pipes where the base or other sections are missing. Easily navigates 90 degree bends.
Available sizes: DN100/4" & DN150/6". For smaller sizes in cast iron, clay or concrete pipes, use the Picote chains.
Easily rebuild your Spider when necessary. Affordable spare parts and rebuild packages available. The tip of the leg will wear off with use - change legs after the 8mm tip has worn out. The Spider must always be operated with its spring leader for flexibility.
Operate at a slower speed: Max 1000 RPM. Only operate with a Maxi Miller.
Attach your Smart Spider to the shaft (always use a sleeve bearing). Check the rotational direction - always rotate clockwise. Position the Spider inside the pipe by manually rotating the Spider legs. Turn your Maxi Miller on (Max 1000rpm). Now start your cleaning process. Be aware of the proficiency of the Smart Spider - continuously flush the dust out of the pipe with water when in use.
Pipe Cutter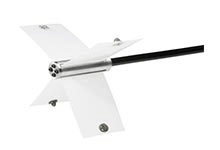 Simply attach special Pipe Cutter panels & centraliser to your existing Smart CutterT. Quickly and easily remove excess cured liner that has overshot during the lining process into the main line. Cut the excess piece through the lateral. For longer excess pipe, cut smaller pieces at a time until the desired length has been removed. Powered by a Picote milling machine or a hand drill. For DN70, DN100, DN150 & DN200 pipes.
The new Ultra flex is a complete unit and is used when there is a bend just before the location where the liner needs to be trimmed. The recent DN200 pipe cutter is also a complete unit and is to be powered by Maxi Miller. Ask your reseller for further information.
Picote Grabber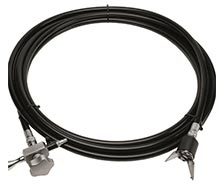 Ever lose a tool or other important item down the drain? Avoid digging up costly mistakes with the new Picote Grabber. Simply select and attach the best grabbing head for the job and you're ready to reclaim that tool or item, weighing up to 35kg. Push the cable into place and switch on the air supply to get a grip on the object. The customised steering function allows the grabbing head to rotate due to the cable inside, making it much easier to grip the item. Pull the tool out of the drain and then simply turn off the air to release it.
Twister Liner Remover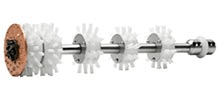 The Twister Liner Remover (Duo) is a specialty tool designed to remove collapsed liner. It has two front brushes for stabilisation. The Duo has been upgraded with a custom built flat drill head. The impressive new 3mm front metal panel features more carbides which are larger than the previous model, enabling it to perform collapsed liner removal for DN100 and DN150 cast iron or concrete pipes more efficiently than before.
Original Descaling Chains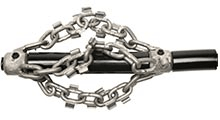 For the general cleaning of pipes these are highly regarded as the first choice of many technicians. This style of chain is also very proficient at removing fat and root blockages when used in conjunction with our special cutting head.
Cyclone Chain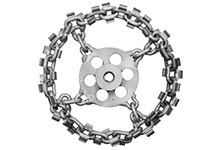 Suitable for use with pipes that are in a bad state or even cracked. The centrifugal force is evenly distributed inside the pipe so it will not bang the sides. Easily removes hard materials, such as lead, tree roots and concrete. The Cyclone is also used to eliminate any excess debris after using the Twister to remove collapsed liner inside cast iron pipes
6 Panel Hub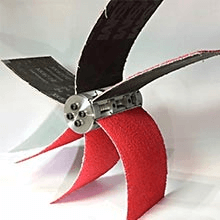 Our latest 6-panel hub is only compatible with our larger Maxi miller. When used in the size range of DN100-200 the 6-panel hub will quickly and efficiently reinstate lateral connections as well as remove imperfections like wrinkles, creases and fins from liners and patch repairs.
Smart Cutter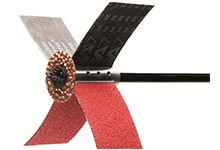 The award-winning Smart Cutter is a unique lateral cutter for DN32 - DN200 drains. This unique system has successfully reinstated over 30,000 branches worldwide to date inside cast iron, concrete and clay pipes.
The Smart CutterT not only eliminates the need for traditionally expensive methods, but its user friendly and fully customisable design also greatly reduces training and maintenance costs and can also be used as an aid for robots, or for the Twister to achieve a smooth finish.
Navigating 90° bends and diameter transitions effortlessly, the Smart CutterT accurately shapes openings without accidental damage to the original pipe.
A great remedial tool, the Smart CutterT also removes lead, nails, roots, fins and epoxy slugs as well as other inconsistencies such as wrinkles in the pipe.
Achieve more with less time and a much smaller budget. Offer small drain rehabilitation from DN32 - DN200. Packages can be customised. Ask your reseller for further information.
---
LATERAL CUTTERS
For more information on our range of comprehensive system and supply solutions call and speak with Australian Pipelining Supplies today.